Linsey Miller – MASK OF SHADOWS
Sallot Leon is a thief, and a good one at that. But gender fluid Sal wants nothing more than to escape the drudgery of life as a highway robber and get closer to the upper-class―and the nobles who destroyed their home.
When Sal steals a flyer for an audition to become a member of The Left Hand―the Queen's personal assassins, named after the rings she wears―Sal jumps at the chance to infiltrate the court and get revenge.
But the audition is a fight to the death filled with clever circus acrobats, lethal apothecaries, and vicious ex-soldiers. A childhood as a common criminal hardly prepared Sal for the trials. And as Sal succeeds in the competition, and wins the heart of Elise, an intriguing scribe at court, they start to dream of a new life and a different future, but one that Sal can have only if they survive.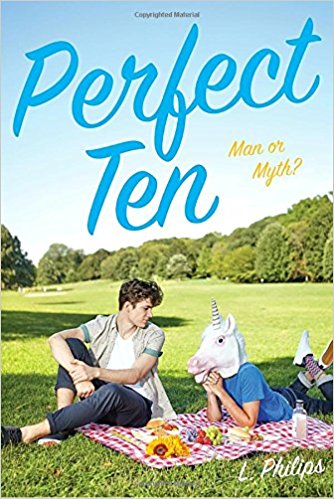 Perfect Ten by L. Philips
 It's been two years since Sam broke up with the only other eligible gay guy in his high school, so to say he's been going through a romantic drought is the understatement of the decade. When Meg, his ex-Catholic-turned-Wiccan best friend, suggests performing a love spell, Sam is just desperate enough to try. He crafts a list of ten traits he wants in a boyfriend and burns it in a cemetery at midnight on Friday the thirteenth.
Enter three seemingly perfect guys, all in pursuit of Sam. There's Gus, the suave French exchange student; Jamie, the sweet and shy artist; and Travis, the guitar-playing tattooed enigma. Even Sam's ex-boyfriend, Landon, might want another chance.
But does a Perfect Ten even exist? Find out in this delectable coming-of-age romcom with just a touch of magic