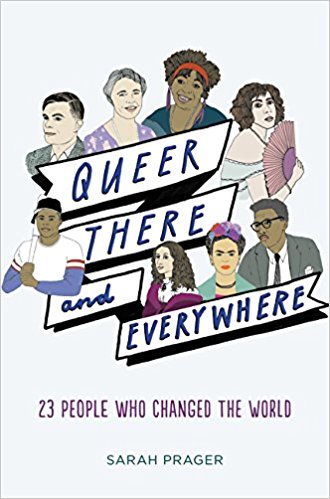 Queer, There, and Everywhere: 23 People Who Changed the World – Sarah Prager and Zoe More O'Ferrall
World history has been made by countless lesbian, gay, bisexual, transgender, and queer individuals—and you've never heard of many of them.
Queer author and activist Sarah Prager delves deep into the lives of 23 people who fought, created, and loved on their own terms. From high-profile figures like Abraham Lincoln and Eleanor Roosevelt to the trailblazing gender-ambiguous Queen of Sweden and a bisexual blues singer who didn't make it into your history books, these astonishing true stories uncover a rich queer heritage that encompasses every culture, in every era.
By turns hilarious and inspiring, the beautifully illustrated Queer, There, and Everywhere is for anyone who wants the real story of the queer rights movement.
They Both Die At the End by Adam Silvera
 On September 5, a little after midnight, Death-Cast calls Mateo Torrez and Rufus Emeterio to give them some bad news: They're going to die today. Mateo and Rufus are total strangers, but, for different reasons, they're both looking to make a new friend on their End Day. The good news: There's an app for that. It's called the Last Friend, and through it, Rufus and Mateo are about to meet up for one last great adventure—to live a lifetime in a single day.