If drag is your religion, then RuPaul's Drag Con is the yearly pilgrimage you need to take. Held at the Los Angeles Convention Center on April 28 – 30, RPDC hit its third anniversary this year and I, along with three friends, was there to experience every sickening minute.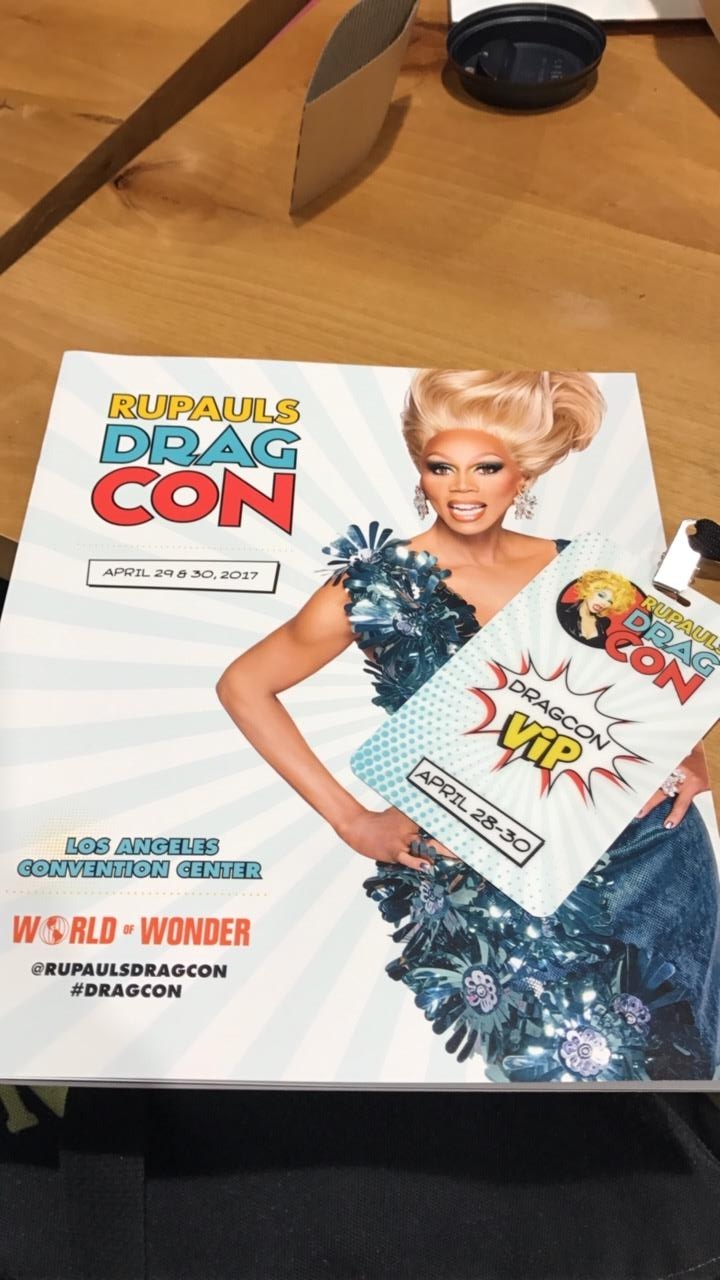 Tips Before You Arrive
Go VIP
Regular tickets for the whole weekend are $50, and the VIP package is $100 extra. Worth every single penny. That VIP badge will get you into the convention for two hours on Friday night and half an hour before standard ticket holders on Saturday and Sunday, to the front of a lot of queen's booths, the front of all panel lines, and into Ru's keynote speech first.
Bring Your Own Food
The food situation at the center wasn't great. One restaurant inside and a handful of food trucks outside meant that I waited almost 90 minutes for a plate of nachos – sure, the chips were fresh, but I could have spent that time in line waiting to meet Katya!
Get Ready To Wait
Be prepared to stand in line for a LONG time… One of the things I love most about drag is the huge, amazingly diverse group of people it brings together to celebrate it. But I forgot that not only would most of those people be at the convention, they would be gagging to meet exactly the same queens that I did! The most popular queens like Katya, Adore, and most of the current Season 9 queens, had the longest lines – some people stood there for over 3 hours. You quickly need to make decisions about what's important – do I need to tell Valentina her Madonna runway look was sickening, or is the Queens Reading Celebrities panel something I absolutely cannot miss?
Be Prepared To Spend $$$                                                                     Once you get to the front of the line, almost all the queens have a rule that you must buy a piece of merch from their booth before you meet them – hey, these girls gotta pay rent! And you might start the day strong, but once you're there, suddenly you'll find yourself unable to imagine life without a Willam beach towel, or four Kim-Chi pins.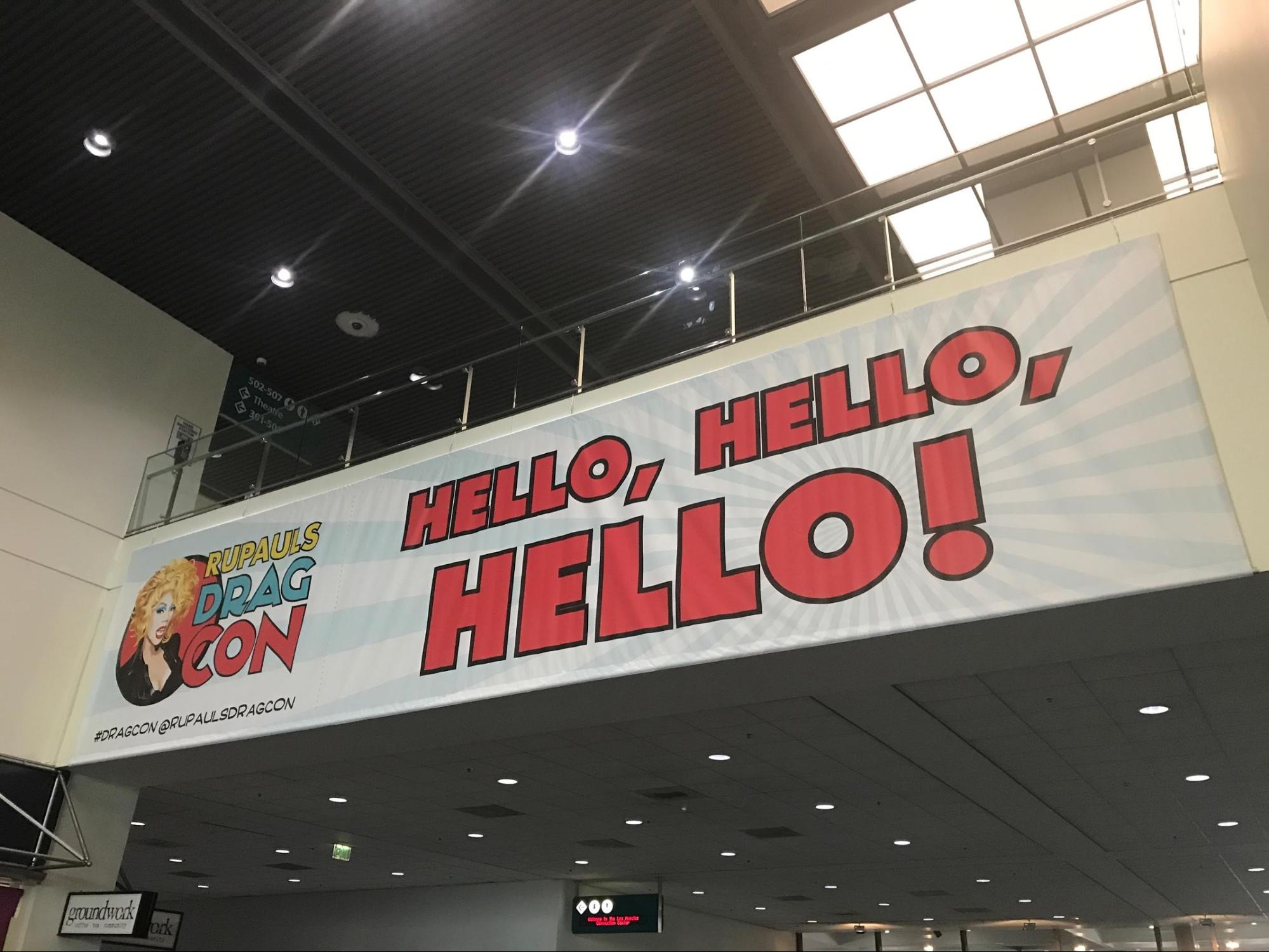 Day One
With our VIP badges collected, once the doors opened we fully planned to take advantage of the extra 30 mins we had to do a walk around the whole hall and scope it out. But halfway up Glamazon Blvd we spotted Michelle Visage's booth and made an immediate beeline for her. I'm not only a RPDR fan, but an avid listener of her weekly podcast with RuPaul, 'What's The Tee?'. She's one of my personal idols – I identify with her so much, and the podcasts are like therapy for me. Of course, she was every bit as warm and hilarious as I thought she would be. We chatted about musicals, the podcast, feminism… To discover that she is everything I hoped she would be (and more!) was one of the best moments of the weekend.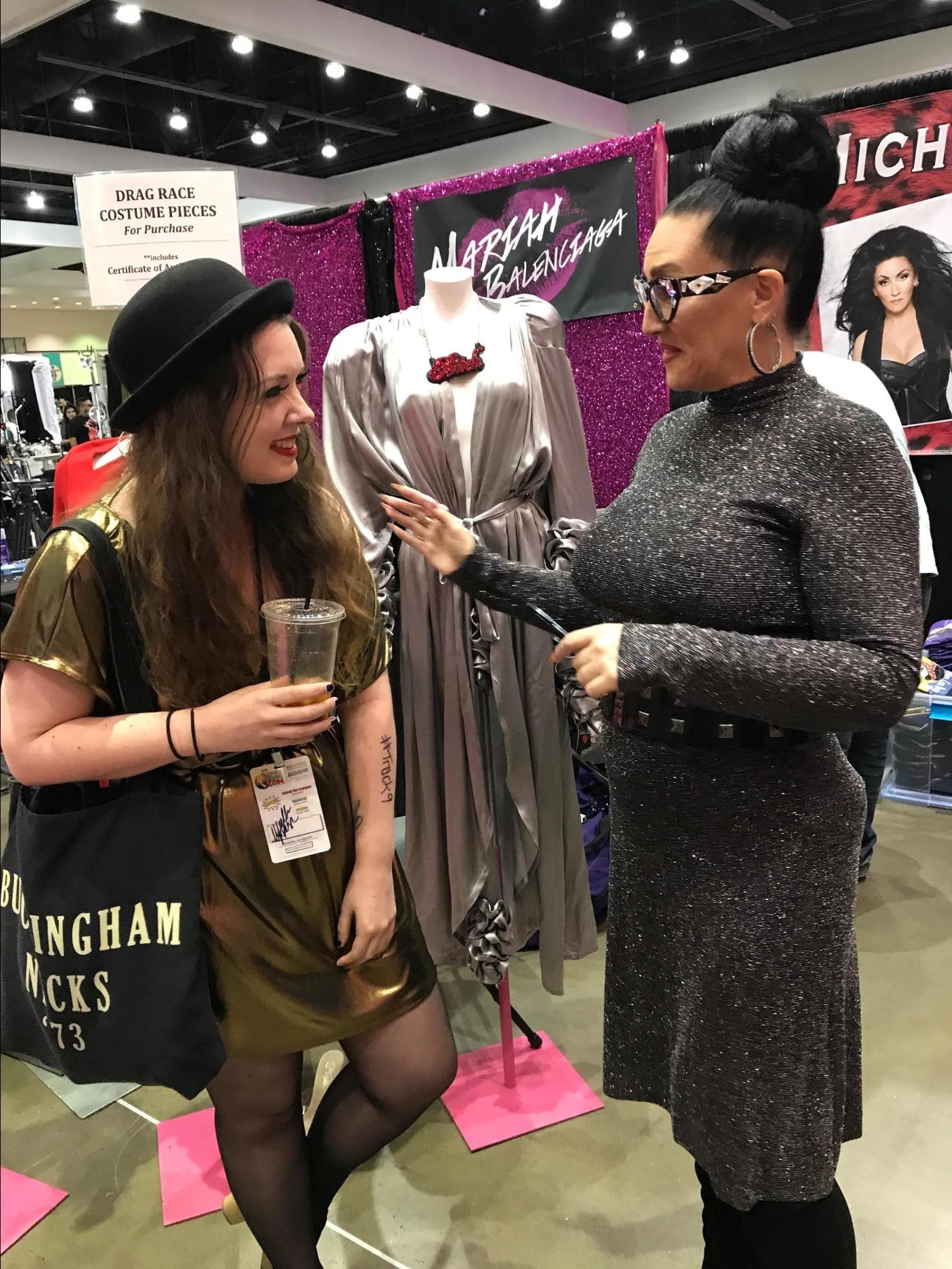 After Michelle, we ticked Kim Chi and Bob The Drag Queen off our lists thanks to their relatively shorter lines, then headed over to RuPaul's big opening.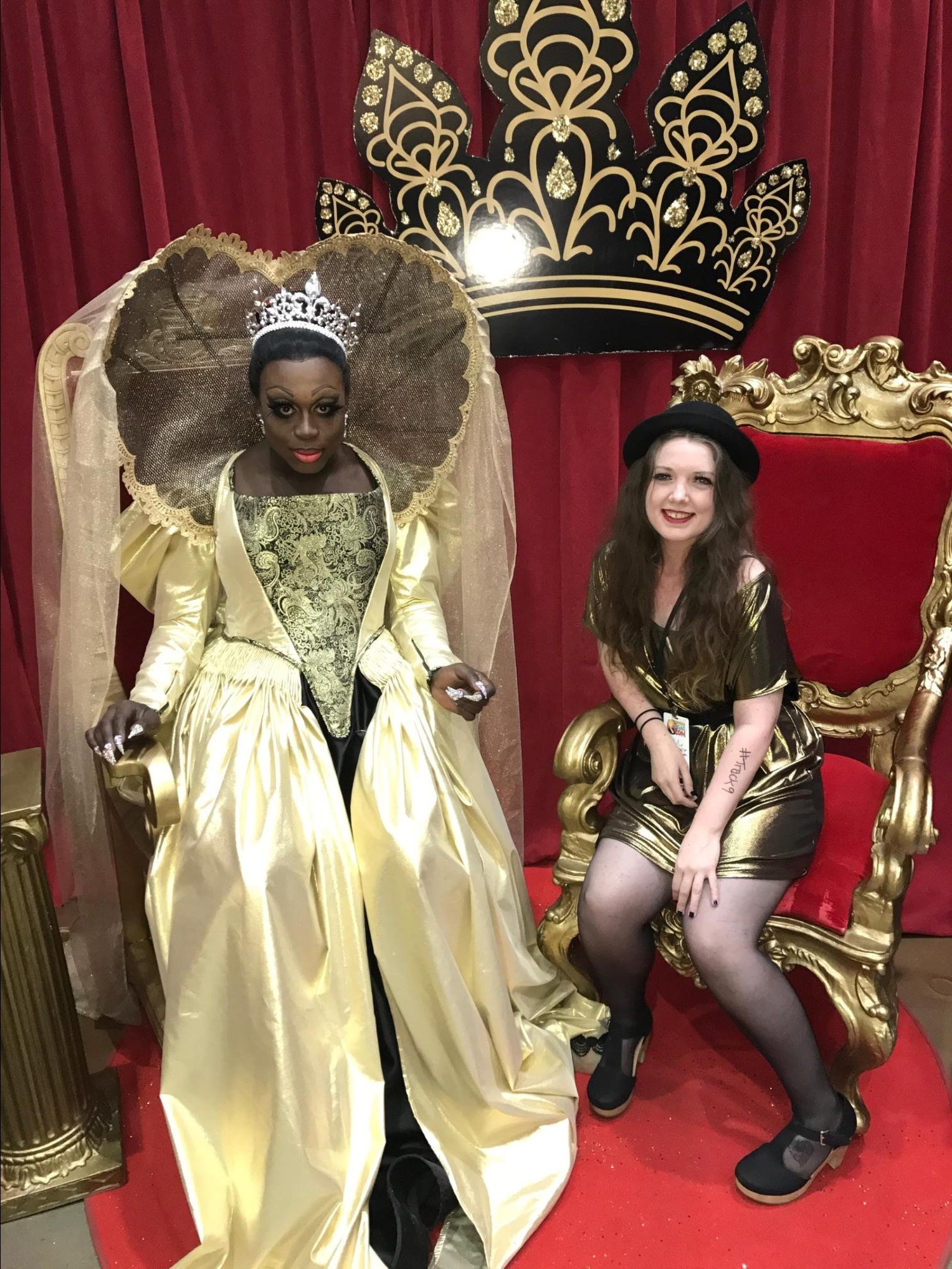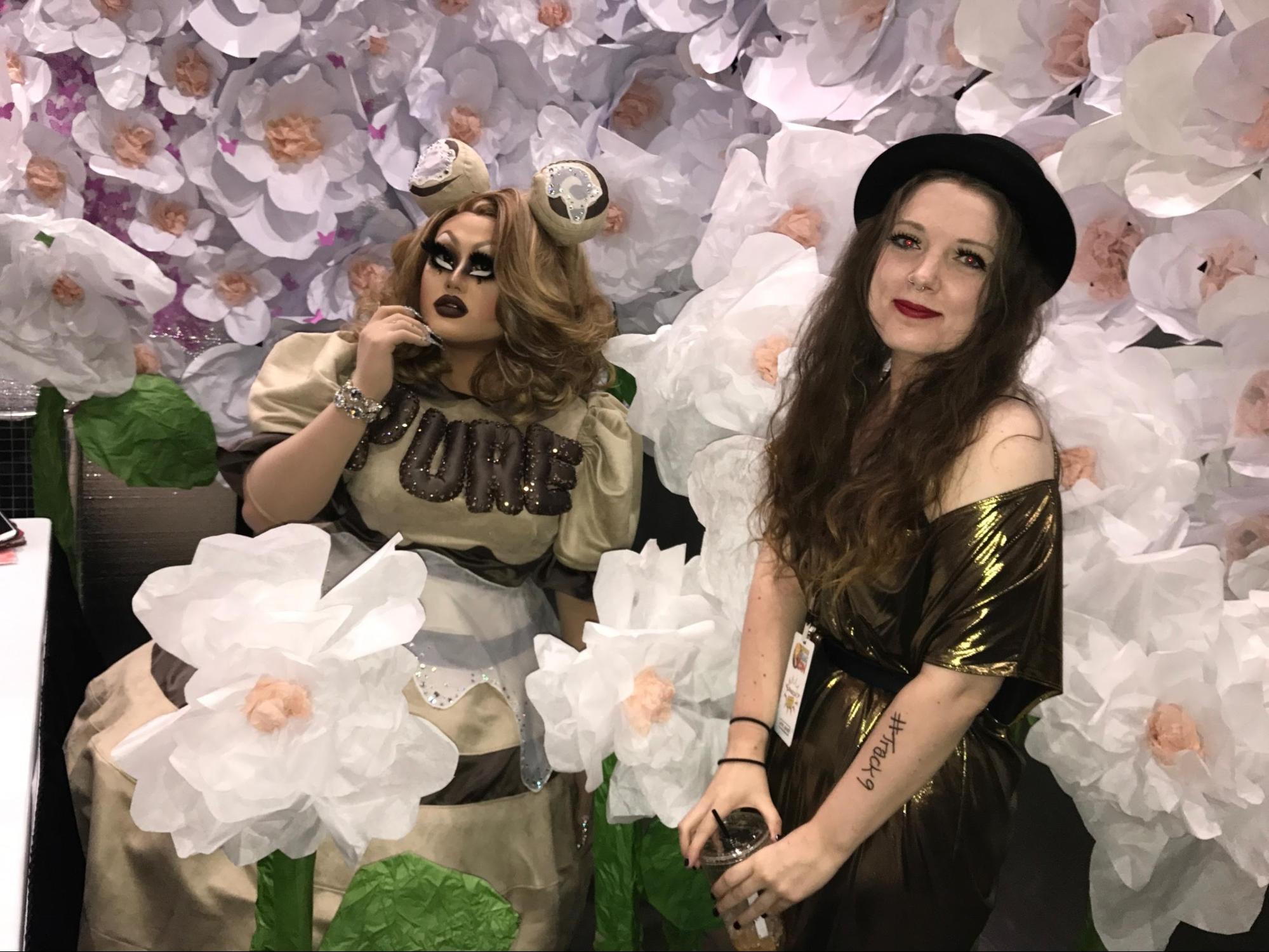 Meeting RuPaul is obviously one of the biggest draws to the convention and not something we planned on missing. To meet Mama Ru herself you have two options – autograph ($45) or photo op ($60, but you can have two people in the photo so grab a friend and split the cost!). There were two allocated times for autographs and two for photos per day. We bought our tickets for a photo and planned to make the 3pm slot after lunch.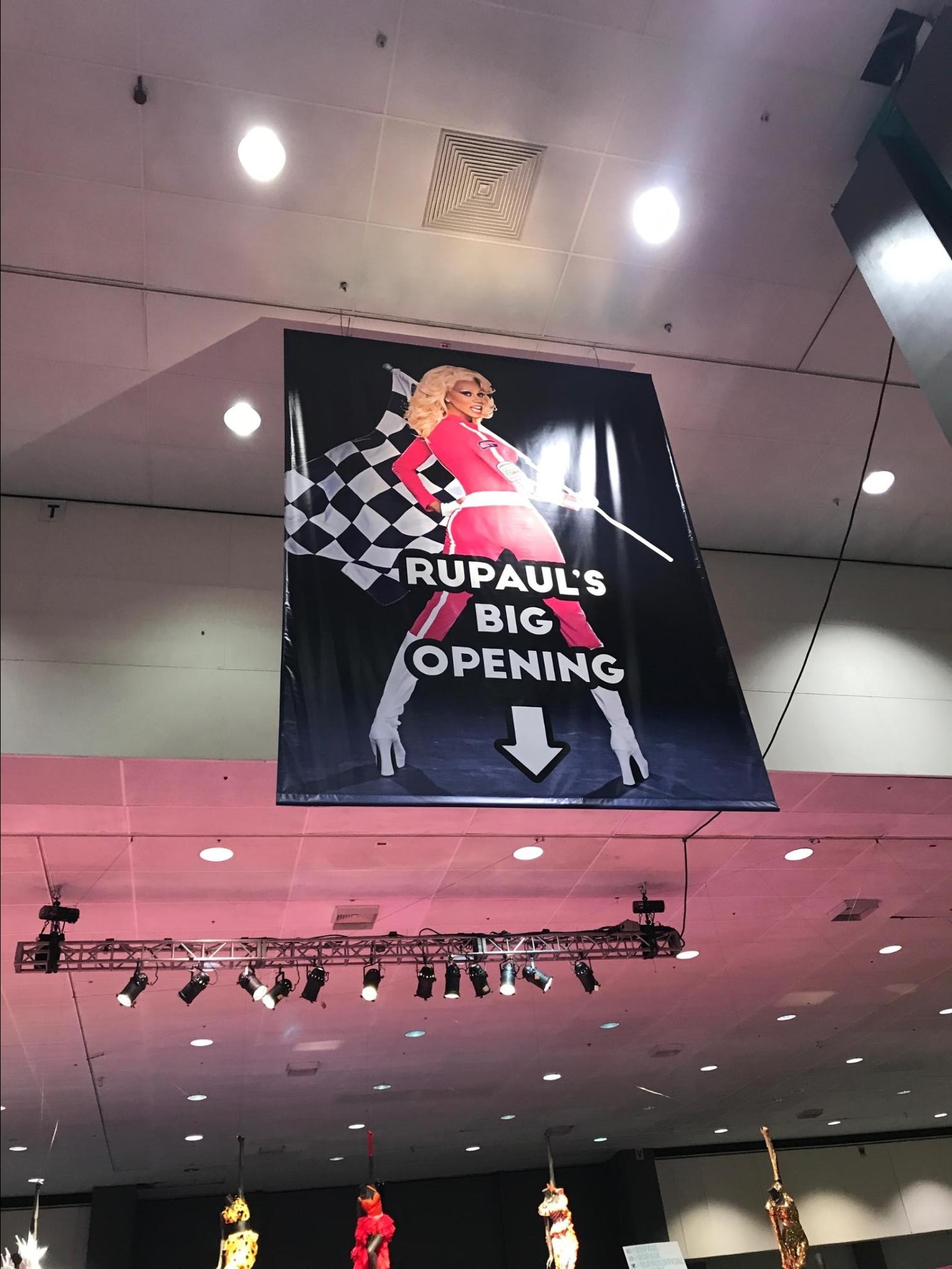 But before lunch, we made our way up to the panel level to see Only Judy Can Judge Me – a behind the scenes look at what it's really like to be on the judges panel. Michelle Visage was joined by Candis Cayne, Heather McDonald, Jeffrey Bowyer-Chapman, Ross Matthews, and Jamal Sims for a candid 45 minute discussion. Jeffrey revealed he was the person who showed Kardashian: The Musical to the family themselves (they all loved it!), and Jamal discussed dancing, and confirmed the rehearsals we see are pretty much all the girls get – so if they suck, they better practice. It was great to hear how all of them were huge fans of the show before they were asked to judge.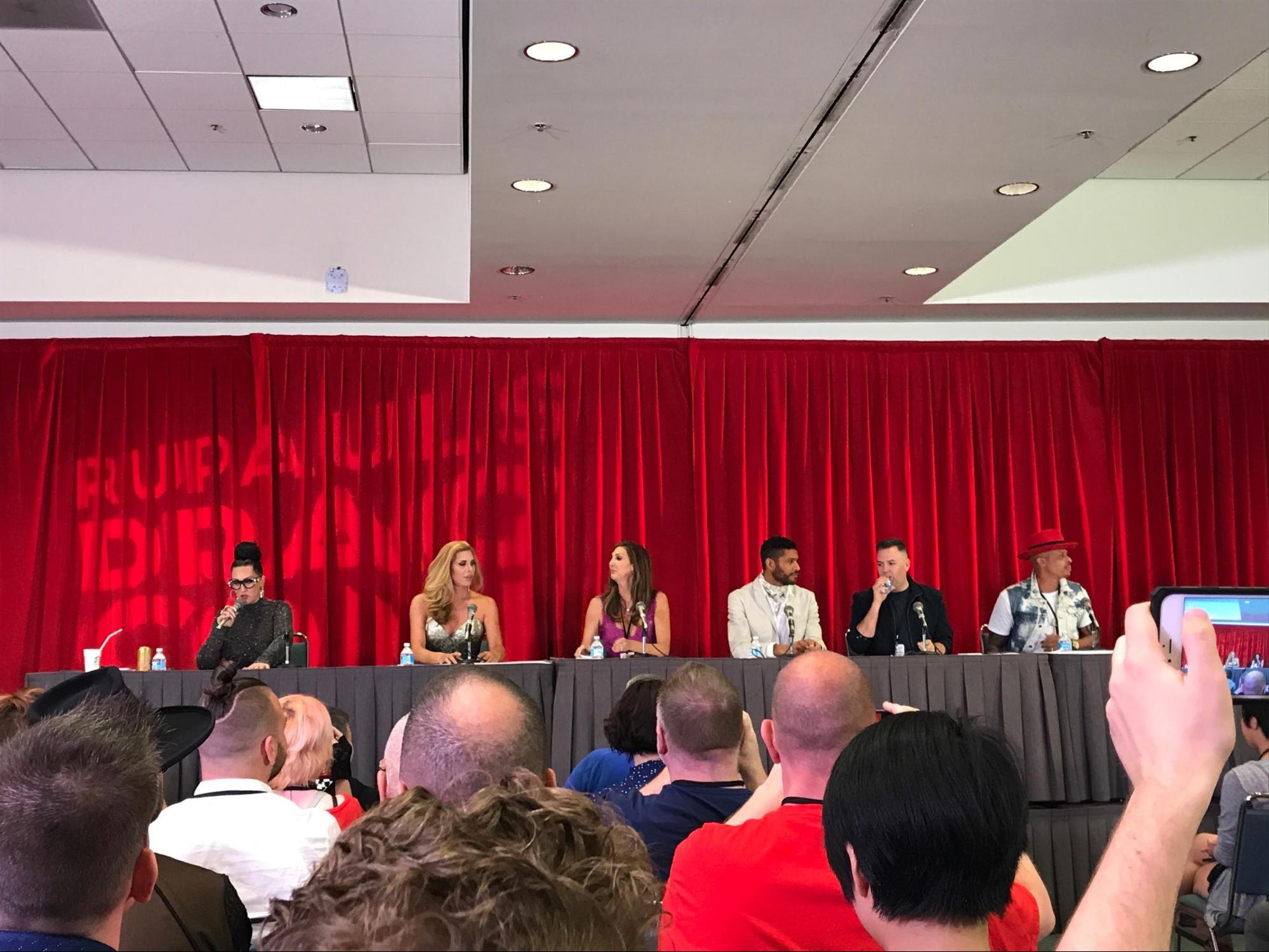 After the panel and the longest lunch line of all time, we decided to wait until Day Two to meet RuPaul, so we went to go see our last event of the day – Ginger Minj Makes Over Jerry O'Connell.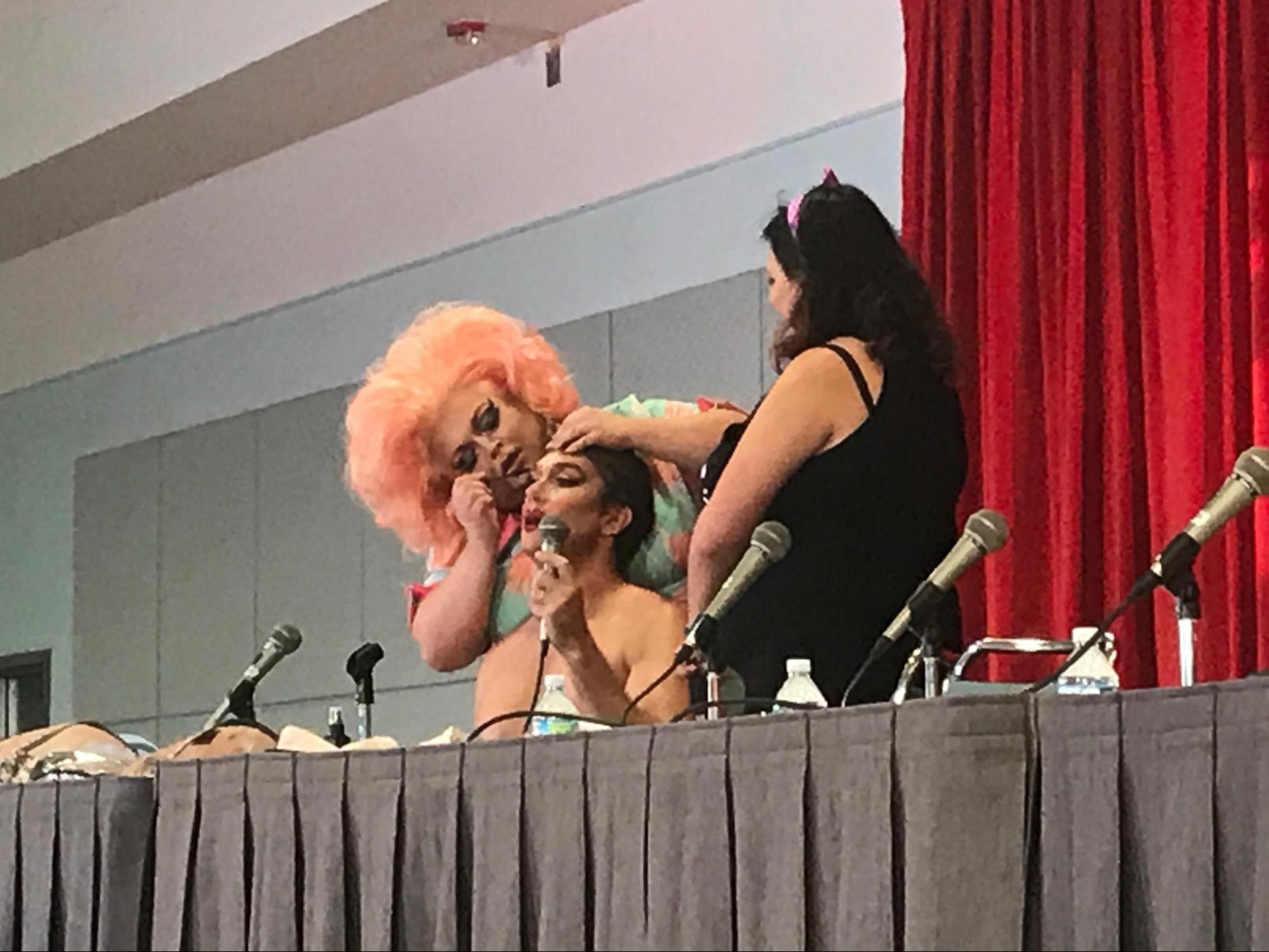 Ginger has always been one of my favorite queens; her quick wit and irreverent humor are something I absolutely love, so getting to spend an hour watching her turn Jerry O'Connell into a surprisingly beautiful queen was a real treat.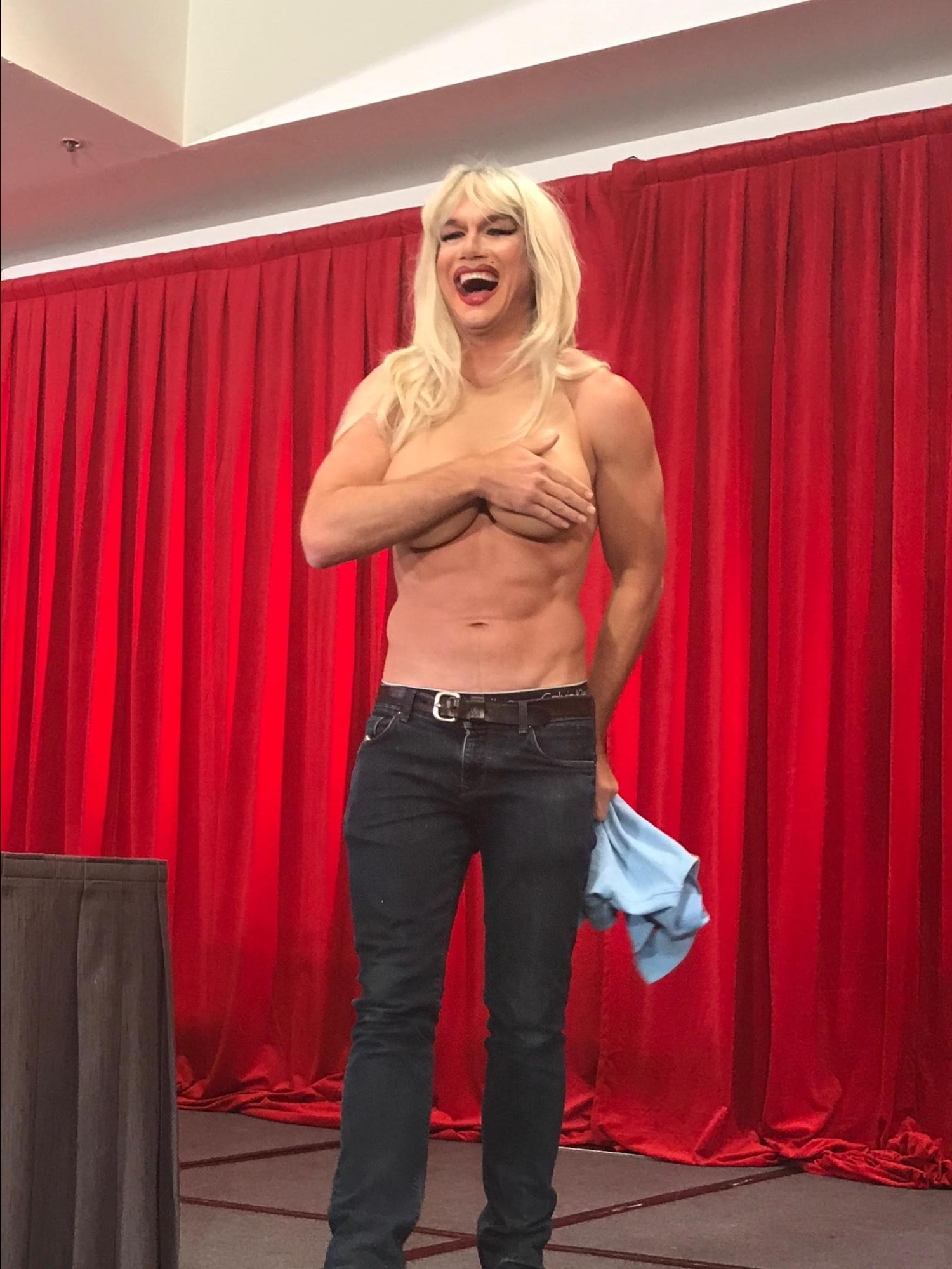 The day wrapped here for us.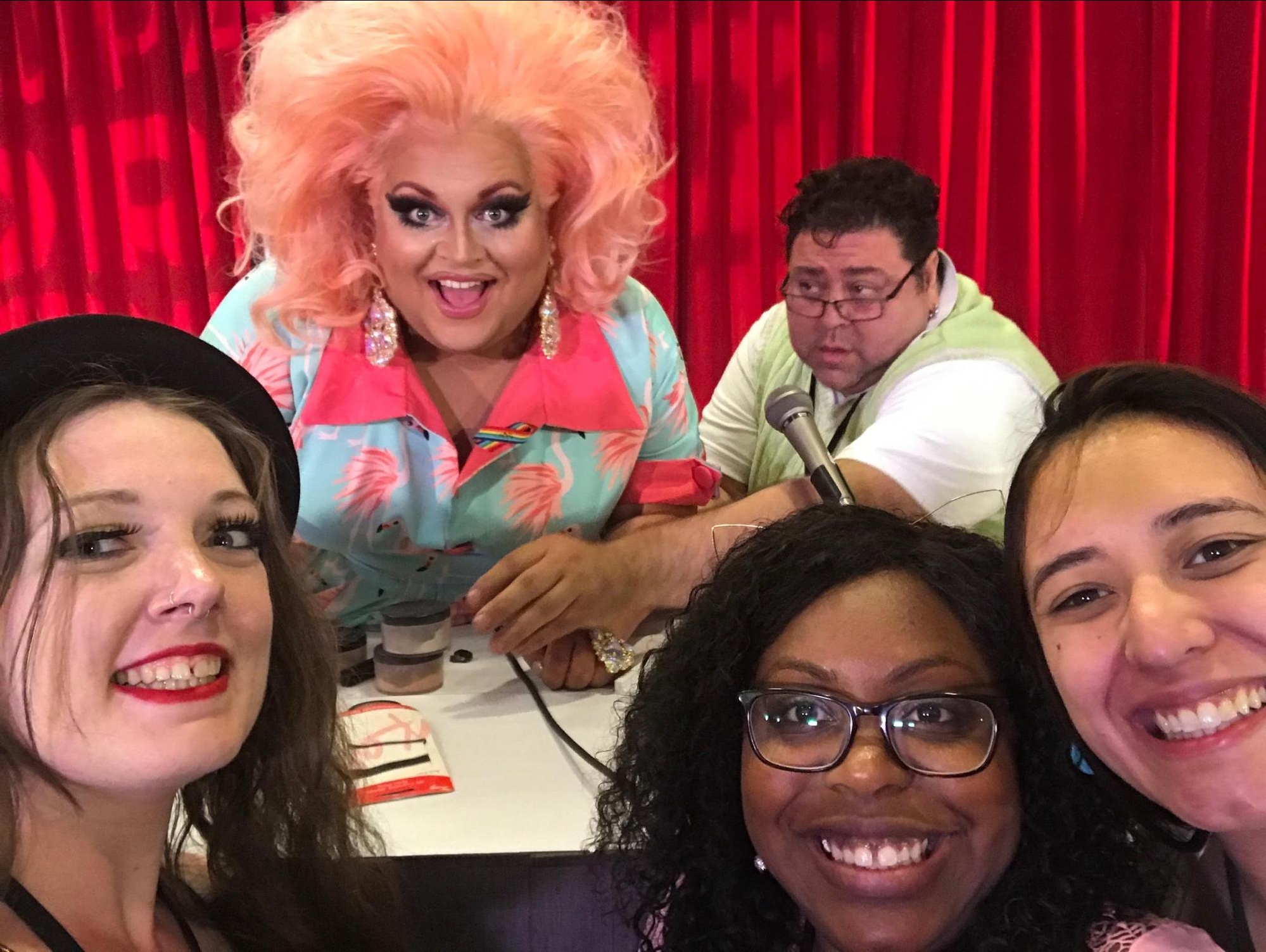 We were exhausted and wanted to make sure we were fresh faced for Ru the next day.
Day Two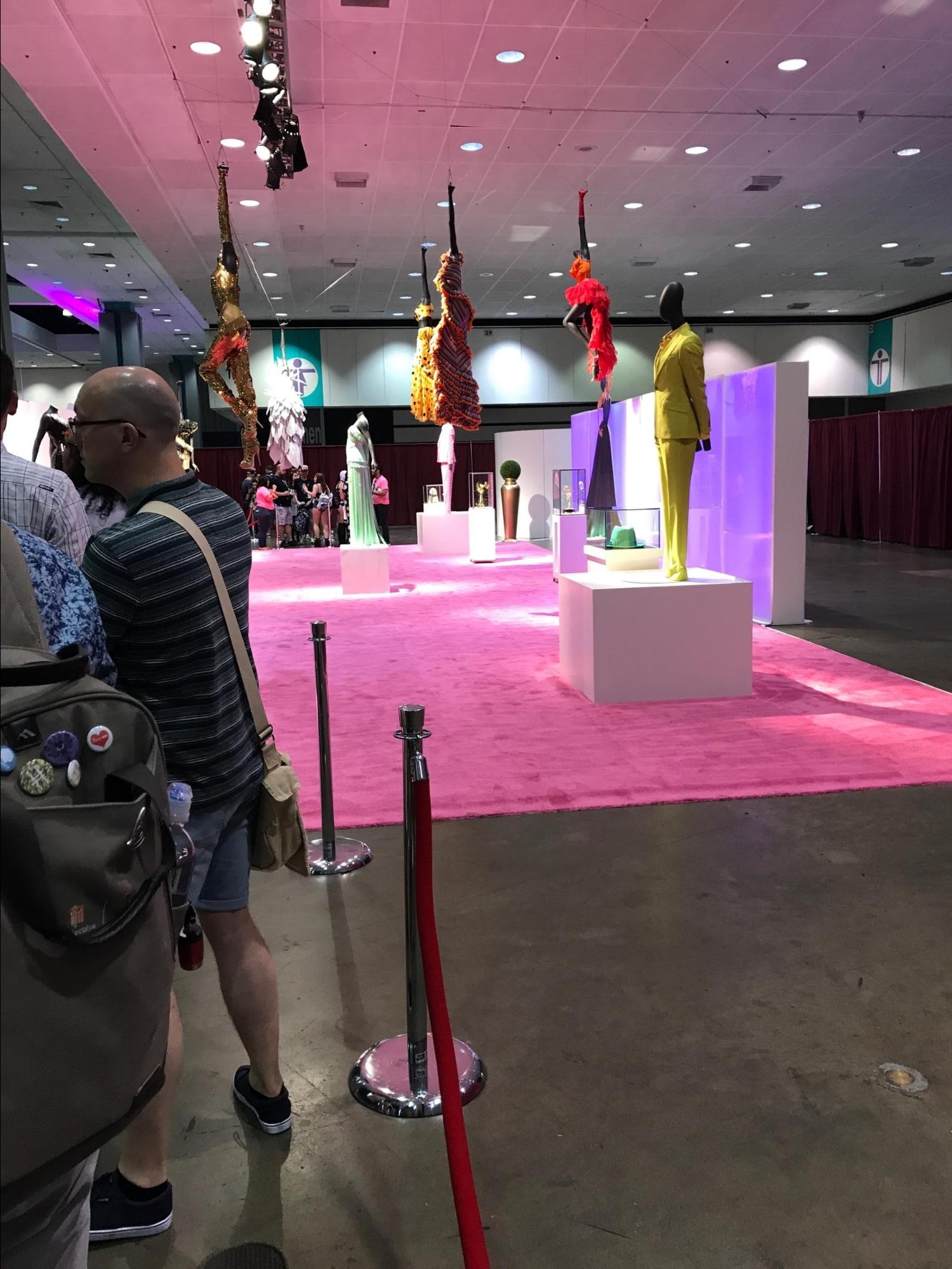 The second we got into the hall, we bolted to Ru's line. No one was going to get between us and that photo, no matter what! The photo op didn't start until 12, but we were ready and dedicated so the next two and a half hours were spent sitting on the floor watching Untucked episodes and trying to figure out exactly what to say to the legend who created this entire event!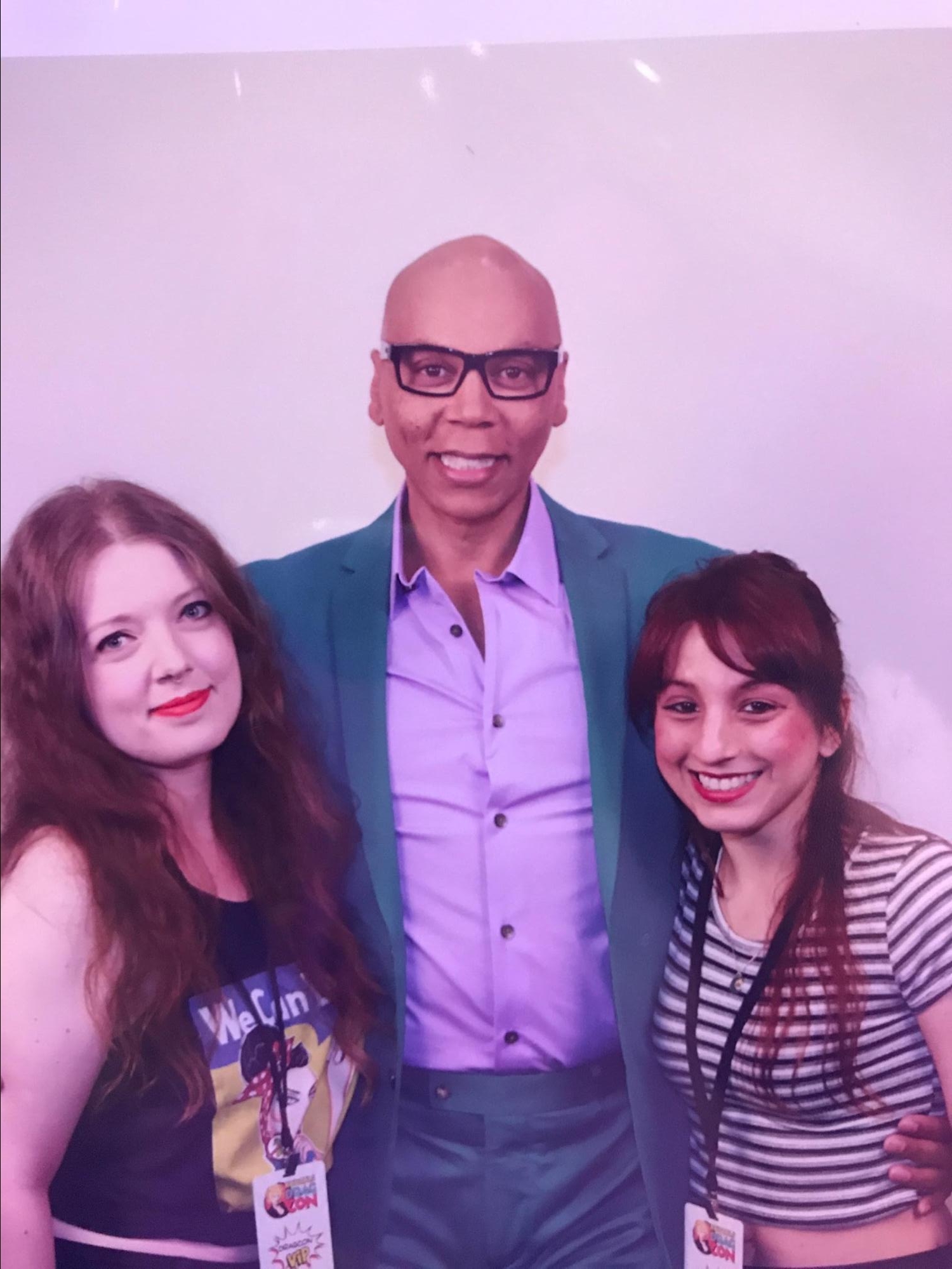 Needless to say, even though it was short, meeting RuPaul was something I'll never forget. He stood in a small enclosed area, and we were led in group by group for our photo. It felt like meeting God. He looked right into my eyes as I approached him; it was intimidating and comforting at the same time. Immediately he asked if I was wearing Lady Danger by Mac, which of course I was thanks to 'What's The Tee?', then we took the photo and as I was leaving my friend made him laugh hysterically when she told him listening to the podcast has made her want to try acid.
After waiting for our photo to print, we were now already halfway through Day Two. But it was worth it. We came to realize that there is absolutely no way you can possibly do even half of what you want to do. "Next year we can…" was a phrase we were uttering all weekend.
We knew RuPaul was doing the keynote speech at 4pm, and this wasn't something we planned on missing, so we knew our afternoon activities were really limited if we wanted to get a good place in line. We made our way over to Willam – another favorite queen and someone we all really wanted to meet. Willam didn't follow the trend of requiring a purchase to get a photo, but I still bought a beach towel and a shirt (both items were obviously absolutely essential to my life…)
I had forgotten my Michelle Visage book on Day One, so I went back over to get it signed (and another hug, let's be honest!) then it was time to make our way to the biggest line of the weekend for RuPaul's keynote speech.
I'm not sure what I was expecting from his speech; maybe just a few thank you's, and some updates on the show or next year's Con. I wasn't prepared for an almost religious experience.
I'm familiar with Ru's background from listening to the podcast, but for those not in the know he told us about his upbringing with his father; specifically, the moment in his childhood that he says he allowed to define him for way too long. The moment his father failed to pick him up for weekend visits. One of the things I love most about Ru is the way he bares his soul to us, and this was no different. In order to be our best self, we must overcome our inner saboteur. That thing inside of us that we ultimate get off on, the thing that says, "you're fat!" or "no one will ever love you!" that we then use as an excuse for our behavior. Ru shared his own saboteur with us and explained how he overcame it.
The whole speech was incredibly moving, and I found myself in tears many times, especially when the audience was invited to ask questions and shared their own stories. We all left feeling like our soul had been cleansed, and more than ready for the exclusively revealed next convention in New York at the end of September.
The entire weekend was full of love and acceptance. My heart is so incredibly full, not only from meeting people I respect, admire and love, but from being able to spend time in an environment where fear didn't exist. The feeling of being able to say, do, wear, anything you wanted was unbelievably elevating – we were all accepted, all supported, and all loved.
Thank you, Mama Ru, for everything you've given us.
Now, everybody say LOVE!
Author: Holly Walters
I'm a Brit living in LA, obsessed with Broadway, Meryl Streep and drag.
Instagram: @charlottenelsonreilly
Twitter: @hollylottie88