Protests of Donald Trump's victory in the presidential election took place across California on Wednesday, with students at several Bay Area high schools walking out in the middle of class and a throng of young demonstrators taking to the steps of Los Angeles' City Hall.
The demonstrations — which mirrored protests from Seattle to Pittsburgh — followed protests in the pre-dawn hours in which crowds openly disavowed the president-elect, with a few resorting to vandalism.
At Berkeley High School, about 1,500 students — half the entire student body — walked out of class after first period began at 8 a.m., Berkeley Unified School District officials said.
Students tweeted "#NotMyPresident" and pledged to unify. Others chanted, "Si, se puede," Spanish for "Yes, we can," and waved Mexican flags, according to posts on social media.
"It's not the first time we've had a walkout. We know what to expect, we know what we need to do," said Berkeley Unified spokesman Charles Burress.
School and district administrators and faculty accompanied the students as they marched from the school through downtown and onto the UC Berkeley campus.
"Our primary concern is to make sure they are safe during the school day," Burress said.
District officials were not making any plans to discipline students, he said.
In Contra Costa County, El Cerrito police cautioned drivers to look out for high school students in the road.
"Students from high schools in west Contra Costa County are conducting walkouts today in various locations over election results," the department said in a statement. "We urge drivers to use caution if you happen upon any of these groups."
Similar demonstrations erupted across the nation.
In Oregon, hundreds of protesters blocked traffic in downtown Portland, some burning flags. Demonstrators in Seattle blocked traffic and ignited a trash bin.
Late Wednesday, anti-Trump demonstrations were underway in Boston, Chicago, New York and Philadelphia. Many carried signs that repeated a popular phrase from Hillary Clinton's campaign: "Love trumps hate."
Earlier in the day, after Trump delivered his victory speech in New York, an estimated 2,000 people rallied at UCLA, where two separate demonstrations merged into one, said UCLA police Sgt. Miguel Banuelos.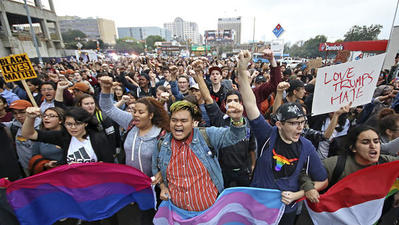 The group marched from the campus through Westwood Village to a federal building on Wilshire Boulevard, Banuelos said. There were no arrests. About 1 a.m., a Trump piñata was set on fire in a trash can outside a Westwood Boulevard store.
N.J. Omorogieva, 19, said she was heartbroken by the election's result when she spotted the crowd in Westwood while walking home.
"Of course, I joined in," she said. "To give hugs to people who were overcome by devastation."
In downtown L.A., a crowd gathered near City Hall and property was defaced, including a fence scrawled with graffiti insulting Trump. About 2 p.m. Wednesday, a crowd of at least 100 young demonstrators flocked to the steps of City Hall.
About 200 people demonstrated near Cal State L.A., and 50 more were at Pershing Square, said LAPD Officer Norma Eisenman. There were no arrests.
The mood was more buoyant at the president-elect's star on the Walk of Fame in Hollywood, where a small crowd of about 30 Trump supporters gathered early Wednesday to celebrate his upset victory.
Diane Mendez, 23, a Trump supporter who volunteered at a polling place, said she came to celebrate what she saw as a turning point.
"He said he would bring jobs back to America. We all need jobs," Mendez said. "Who doesn't need jobs?"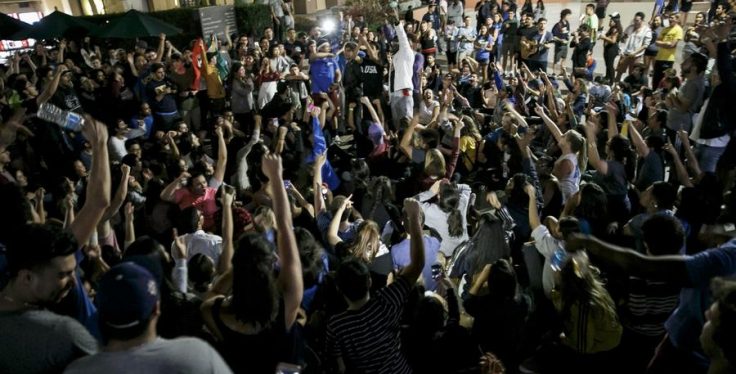 In Oakland, demonstrators smashed a window at the Oakland Tribune newsroom and ignited trash containers and tires, police said. Small fires also prompted the closure of a Bay Area Rapid Transit station.
The crowd broke windows on five businesses and further vandalized another, said Oakland police spokeswoman Johnna Watson. One citation was issued, but no one was arrested, she said.
Protesters also burned Trump in effigy, KNTV reported.
Protests in the Bay Area city were centered downtown and there was a march along Highway 24, where a woman was struck by an SUV. She was taken to a hospital with "major injuries," California Highway Patrol Sgt. Matt Langford told the San Francisco Chronicle.
At UC Santa Barbara, hundreds marched near the campus, with some chanting, "Not my president."
One person carried a Mexican flag, according to video posted by the student newspaper, the Daily Nexus.
About 500 students marched through the La Jolla campus of UC San Diego, protesting Trump's win and chanting his name with an expletive.
Source: La Times