Supervisor Sheila James Kuehl and Supervisor Hilda L. Solis brought the Women and Girls Initiative (#WomenRiseLA) to the LA County Board of Supervisors, in a co-authored motion to "better address the disproportionate disadvantages and burdens experienced by women and girls County-wide." The Board of Supervisors had voted to approve the creation of the five-year initiative. 
Supervisor Kuehl and Supervisor Solis both have experience advocating for underserved populations.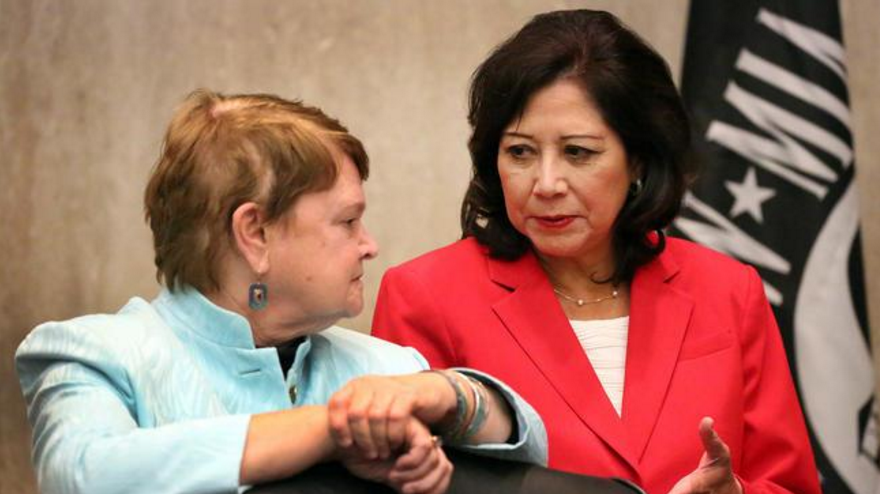 Supervisor Kuehl of District 3 is Chair of the Board of Commissioners of First Five, LA, a member of the Boards of Directors of Metro, the Expo Authority, and the LA Local Agency Formation Commission. She has eight years of experience in the State Senate, as well as six years in the State Assembly. She was also the first woman in California to become Speaker Pro Tempore of the Assembly, and the first openly lesbian woman to be elected to the California Legislature. In her years of public service, she authored 171 bills that were signed into law, including prohibiting gender and disability discrimination in the work place and prohibiting discrimination based on sexual orientation in education.
Before becoming the LA County Supervisor of District 1, Supervisor Solis served in the U.S. House of Representatives, as well as in President Barack Obama's administration. Throughout her public service she has undertaken groundbreaking roles in a series of firsts: the first Latina United States Secretary of Labor, first Latina in State Senate, first female representative of San Gabriel Valley, and the first woman to have received the prestigious John F. Kennedy Profile in Courage Award for her work in progressing environmental justice. Her priorities include providing much-needed services to the most vulnerable children and youth, expanding funding for nonprofit arts organizations, providing seniors with better healthcare and services, increasing access to healthcare coverage, and decreasing homelessness.
Within Kuehl and Solis's initiative, LA County was called to "step up to the challenge" of addressing blind spots within policies and services to make a more fair and equitable system for women. Key statistics and facts put forth were:
-"1 out of 5 women lives below the Federal poverty level."
-"52 years after the Federal Equal Pay Act, women earn an average of 20% less than men for the same work and often have the additional expense of childcare."
-"Since women earn less and disproportionately shoulder the burden of child care, they save less. Of women age 75 and older,
-17% live below the poverty line, twice as many as their male counterparts."
-"A study released earlier this year indicated a 55% increase in the number of homeless women over the past three years."
Notably, the motion also discussed how "Divorced, older and retired women, as well as lesbian and trans women, suffer economic inequity disproportionately."
Should the motion be approved, LA County will take steps to identify areas in policy, service, and advocacy that could be improved to help alleviate disadvantages to women and girls. The LA County Board of Supervisors would take direct action to rectify gender equality including creating a diverse Governing Council that reflects the demographics of LA County, conducting studies and performing research to examine the ways in which women and girls are impacted within the county, assessing and analyzing County workforce data in order to identify opportunities for improvement, assessing County programs' strengths and deficits, and engaging in community outreach.
Jennifer M. Piscopo and Nancy L. Cohen of the Los Angeles Times commented on what they saw as the unusual nature of this motion, calling it a "comprehensive approach to promoting gender equality." They suggested that the United States is behind in operating with a gender inclusive governing perspective (as compared to other nations where it is the norm) and that elsewhere, the approach has yielded "promising results."
If this motion moves forward, it could shape LA county policy, and could reflect a changing movement and perspective towards true gender equality.
Author: Nina Ki