As per a request to revise the Elliott Larsen Civil Rights Act, one that does not currently include protection for the LGBT community, members of the Michigan Civil Rights Commission have decided to decline the notion.
The purpose of the Civil Rights Commission is to determine if a group or community is being discriminated against. By way of revising the Elliott Larsen Act, action could be taken towards those discriminating against the LGBT community when it comes to job opportunities and housing purchases.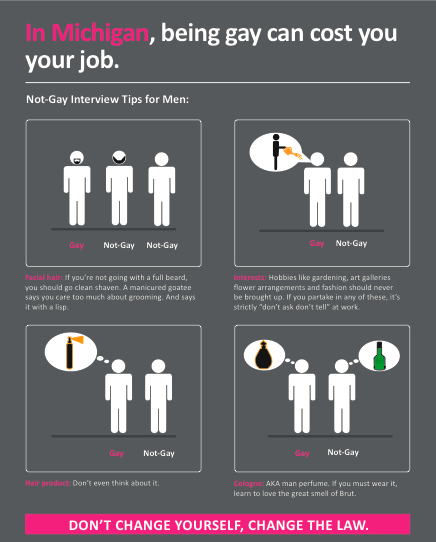 Commissioner Linda Lee Tarver simply stated that it was not within their intention to re-write the law.
Equality Michigan, an LGBT activism group, asked the commission to clarify the stance of the Elliott Larsen Act, which is said to prohibit discrimination by way of religion, race, color origin, age, sex, height, and marital status. Equality Michigan wished for the law to further encompass the sex discrimination clause to include sexual orientation and gender identity.
Ron Robinson, assistant to the Attorney General, advised to the commission that only Legislature could change such a law. He also further stated that should the commission attempt to issue a ruling contrary to the Attorney General, they would face a lawsuit and give up their government immunity.
The commission requested an opinion from Attorney General Bill Schuette himself, but he left the option on the table for future discussion.
Nathan Triplett, director of public policy for Equality Michigan, was not left in astonishment by this decision. He saw that Schuette was proving himself yet again to be for the ones who discriminate rather than being an advocate for those being discriminated against.
After two hours of deliberation from both sides, many came forward expressing their disinterest in revising the law. The opposing party included many pastors who chose to take a religious stance, claiming that love should be recognized between a male and a female, the only two sexes that God created. Others on the opposing side claimed that they did not support the notion due to the separation of powers in state and government that it would create.
Carol Bacon, a transgender woman, spoke out about how she has been harassed in the streets for who she is. She explained that she should not have to endure this in today's society. Glenna DeJong and her partner Marsha Caspar were amongst the first same-sex couples to wed in Michigan. DeJong expressed that it is not Jesus' intention to discriminate.
Along the years, lawmakers have tried to present opportunities for Legislature to end this discrimination in the Elliott Larsen Act loophole, but Republican leadership in both the House and Senate have not taken any steps toward the cause.