Remember that time in The L Word when Dana and Alice took a strap-on with them on a cruise ship and Dana got seriously embarrassed when security started digging through her luggage?
Luckily for them, the worst Dana and Alice had to endure was a very confused TSA official and the smirks and sniggers of onlookers. Depending on your destination, however, traveling with a sex toy could cost you more than just a few lolz at your expense.
Whether, like Dana and Alice, wearing a strap-on under a captain's uniform is your idea of fun foreplay before bringing your Love Boat fantasy to life, or if you're trans and your silicone accessory is an important part of your identity, traveling with sex toys can be tricky. In fact, it can even be illegal!
There isn't a lot of readily available data on sex toy laws, however the map below (which I hasten to add is not exhaustive) attempts to provide some guidelines. If you're planning a trip to any of the colored-in destinations, you'd be advised to leave your sex toys at home. Consequences could range anywhere from imprisonment, to being refused entry into the country, to being fined, or simply having your beloved (and possibly expensive) toy confiscated.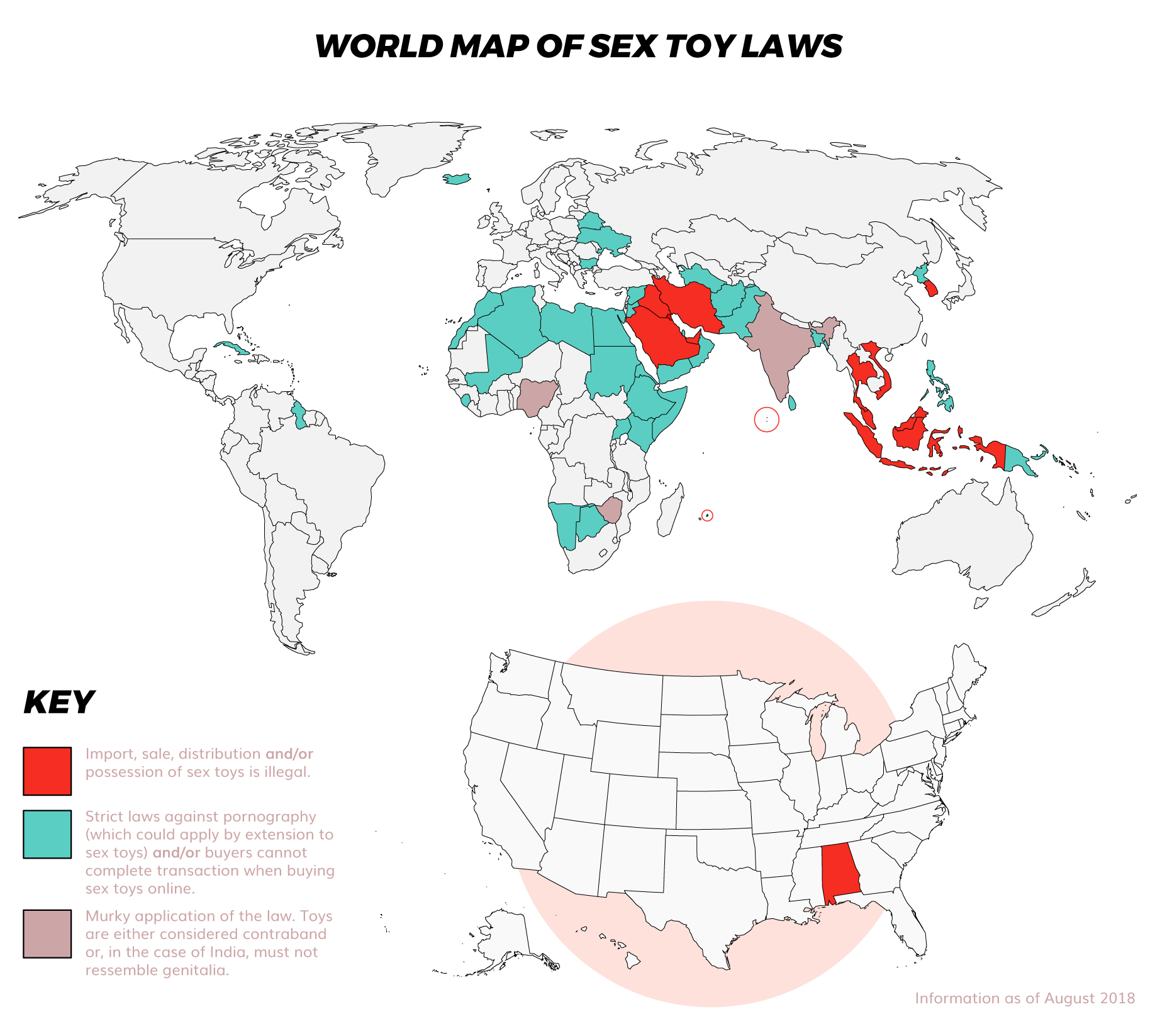 Countries where the import, sale, distribution and/or possession of sex toys is illegal:
Saudi Arabia
Iraq
Iran
Kuwait
United Arab Emirates
Mauritius
The Maldives
Indonesia
Malaysia
Thailand
Vietnam
Bali
Alabama, United States
Keep in mind that "as of August 2018, 72 countries as well as four sub-national jurisdictions have laws criminalizing homosexuality." If, because of the toy you're carrying, a TSA official in a country that criminalizes queer identities perceives you to be LGBTQ, you could be faced with significantly worse than a mere confiscation of the item in question.
The key is to do your research. Even if you can't find hard and fast answers, there's a good chance that if the country has strict laws against pornography and obscenity and/or criminalizes homosexuality, they probably won't take kindly to sex toys.
Travel safe!
Sources: